08.01.2018
COUNTDOWN- Crowdfunding Kampagne endet heute um 23:59 Uhr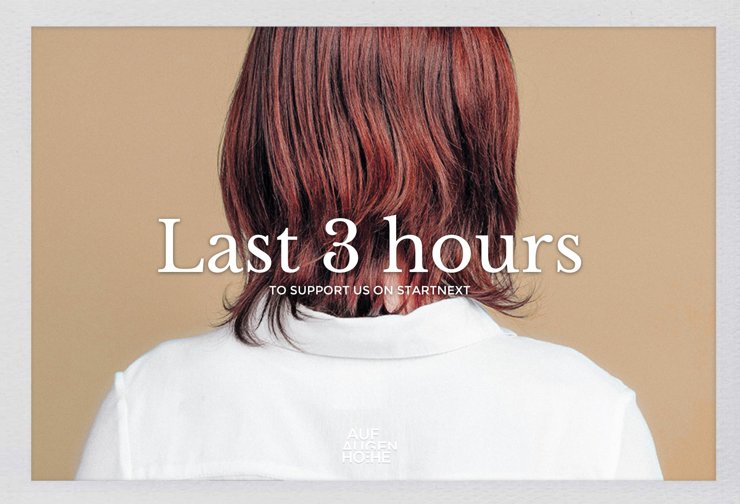 +++English Version below+++
Liebe Freunde und Unterstützer von Auf Augenhoehe,
Der Countdown läuft! Nur noch wenige Stunden kann unsere Crowdfunding Kampagne unterstützt werden. Wir würden uns sehr freuen, wenn ihr in eurem Freundes- und Bekanntenkreis nochmal ordentlich Werbung für unser tolles Projekt macht, damit wir auch unsere weiteren Ziele wie z.B. die Einrichtung eines Webshops, die Entwicklung weiterer toller Kleidungsstücke und die Schuhforschung vorantreiben können!
Bereits jetzt haben wir das 1. Fundingziel von 10.000€ erreicht und sind super-happy darüber! Wir sind unglaublich dankbar und glücklich darüber, dass ihr uns auf dieser spannenden Reise begleitet habt.
In den nächsten Wochen werden wir anfangen, die Goodies zu produzieren euch auf den Laufenden zu halten.
Ganz viele liebe Grüße und Big Love!
Euer Auf Augenhoehe - Team
+++English version +++
Dear Friends & Supporter of Auf Augenhoehe,
Countdown!! You can support our crowdfunding campaign only for few hours We would be very happy, if you can do some advertisement within your network of friends and acquaintances. Thus, we are able to reach also our other goals like the implementation of the webshop, the development of other stylish pieces and the progress of the shoe research.
We have already reached the 10.000€ funding goal and are very happy and thankful about this. Thanks so much for being part on our exciting journey!
Within the next week we will start to produce the goodies and keep you posted!
Thanks so much and big love!
Yours, Auf Augenhoehe-Team