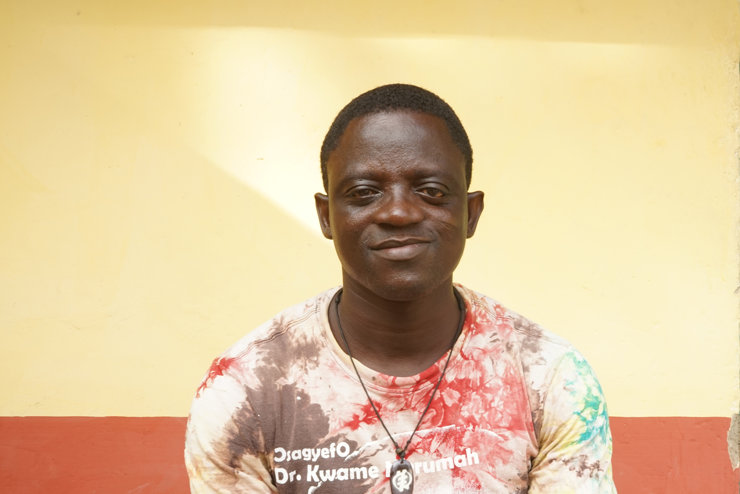 I've been playing xylophone since childhood. Since I was very small. I was influenced by my father and my uncle, who are both xylophone players. My father has travelled across the world entertaining people with his music and builds xylophones too. I've followed in his footsteps.
The xylophone is more than a job though. Playing it is my passion and I play to entertain myself and others. When I have a lot on my mind I sit and play for an hour or two or three and my worries are gone. If I had to stop playing for some reason it would be a big concern for me. Music is food for the soul and so I want contribute in serving souls with my music.
I'm from Accra, the capital of Ghana. And Ghana is my country. I have no option but to live in it, but I would love to take my music beyond Ghana. If I had the opportunity to, I would travel to Europe or anywhere in the world where people would listen. For me, there is no doubt that xylophone playing stands taller than the rest and there is a lot of respect for it in Europe too I believe. Europe is the place I want to go first. When this recording gets made I hope there will be a lot of interest for it.
But my biggest dream is to become a world-class xylophone manufacturer and xylophonist. I want to rebuild my shop at the Arts Centre that was demolished, because it is the only place where traditional crafts and cultural instruments are displayed and sold. It is the best place for my xylophones. But it will cost me 7,000 Cedis [£1200/€1320] to rebuild it, or about [xx days / months] salary for me.
I loved making this album and this opportunity to play for people and demonstrate the beauty of the xylophone would mean everything to me.