09.11.2020
Cinderella in Streamland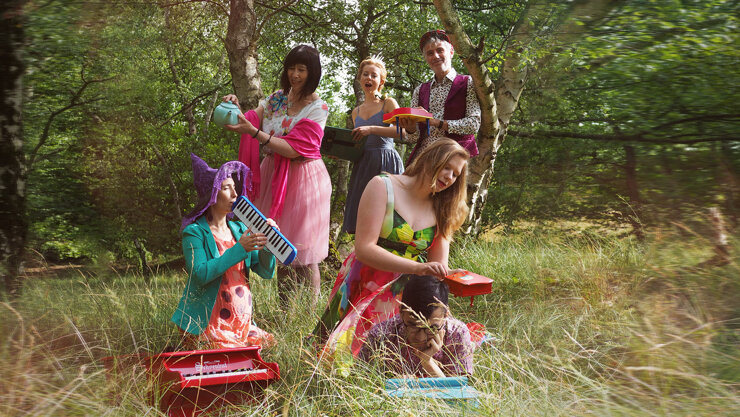 [auf Deutsch:]
Liebe Freund*innen des Non-Piano / Toy Piano Weekends,
wir können Euch nun endlich verraten, wie es mit unserem diesjährigen Festival weitergeht. Statt am 13. und 14. November findet das Festival jetzt am 13. Dezember um 20:00 statt. Aufgrund der derzeitigen Umstände ist es leider unmöglich unser Publikum vor Ort im Resonanzraum willkommen zu heißen. Stattdessen werden wir das Festival unter dem neuen Titel Cinderella in Streamland in voller Länge livestreamen. Das hat allerdings auch einen Vorteil: Es können unbegrenzt viele Leute von überall auf der Welt aus zuschauen. Wir haben das Programm und unsere Inszenierungen extra für dieses neue Format überarbeitet.
Zugang zum Livestream erhalten alle Unterstützer*innen unserer StartNext-Kampagne, die mindestens 5€ gespendet haben (das gilt natürlich auch rückwirkend). Unsere Kampagne wurde glücklicherweise um einen ganzen Monat verlängert.
Wir hoffen Ihr habt Verständnis für diese Änderungen und freuen uns darauf, Euch am 13. Dezember um 20:00 im Livestream willkommen heißen zu dürfen.
Bleibt gesund und munter!
Eure Jennifer Hymer
[in English:]
Dear friends of the Non-Piano / Toy Piano Weekend,
we can finally reveal our new plans for this year's festival. It will now take place on the 13th of December at 8pm CET. Unfortunately, due to the current circumstances we can no longer host an in-person audience at our venue. Instead we will livestream the festival in its entirety under the new title Cinderella in Streamland with a program that has been specially reworked for this new format. This does have one big advantage: our festival can now be attended by an unlimited number of people from all over the world.
All StartNext backers who have donated at least 5€ to our campaign will receive access to the livestream (this, of course, also applies retroactively). Fortunately, our campaign has been extended for a whole month.
We apologise for any inconvencience caused by these changes but hope you understand and we look forward to welcoming you in our livestream on December 13th at 8pm CET.
Stay safe and healthy
Jennifer Hymer