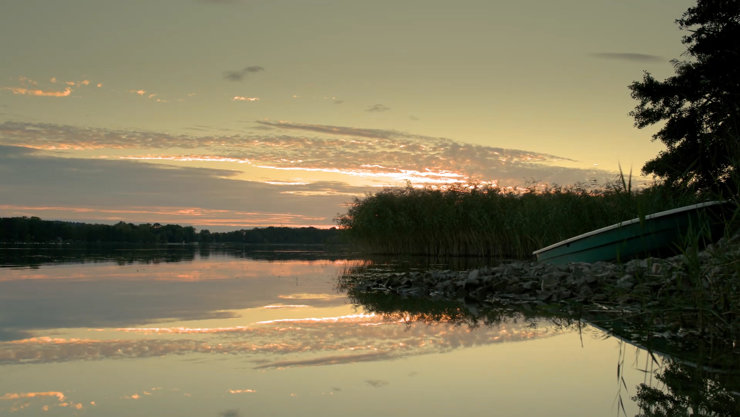 Der Urwald ist zugleich Heimat und Ort der Spiritualität für den Protagonisten. Sein Volk sieht in der wilden Pflanzenwelt einen Teil ihrer Kultur. Sie kennen die Bäume und Pfade wie wir unseren Kiez. Während in unserer materialistischen Sichtweise die Menschen der Natur entstammen,
sehen sie ihren Ursprung in der Kultur und was für uns unwirtlich und wild erscheint, ist ihre Kultur, Flüsse ihre Straßen, Lichtungen ihre Wohnzimmer, Bäume ihre Kirchen. Gemäß dieses romantischen Naturalismus werden Landschaftsaufnahmen und angenehme Blau-Orangekontraste die Serie etablieren.
Jedoch ist der Urwald auch ein Ort der Gefahr und Mystik. Ein idyllisches Grün kann schnell in ein dämonisches, giftiges Grün umschlagen und zu einem verworrenen Labyrinth werden, in dem Raubtiere lauern und es keinen Bezugspunkt mehr gibt.
Die dritte Seite des Urwald ist die der Mystik. Blau und Pink werden ihre vorherrschenden Farben sein. In Einsamkeit setzen sich sowohl Schamanen als auch Initianden der Weisheit der Pflanzen und Tiere aus und kontaktieren die Welt der Geister.
Blau und Pink sind die Farben des Geistes und werden entscheidend während mystischer Begegnungen und Visionen sein. Die Lichtgestalt wird in surrealen Umgebungen erscheinen oder im Urwald, vor dem sie aber nicht wirklich aussieht wie ein Teil derselben Welt. Dies wird erreicht, indem sie in einer anderen Geschwindigkeit als ihre Umgebung abgespielt wird.
Ihr Bild wird durch Zeitlupe und Wind Unterwasserästhetik bekommen, um auf Wasser als Element der Erkenntnis hinzudeuten und es wie einen Traum wirken zu lassen. Z. T. wird sie sich in fraktalen Landschaften bewegen. Wehende Tücher an ihr und um sie herum verdeutlichen ihre etherische, transzendentale Natur und machen sie zum Orakel.
Die Visionen, werden teilweise im Greenscreen Studio gefilmt.
Der satte, grüne Dschungel aus der ersten Hälfte des Films, wird in der zweiten Hälfte mit dem dreckigem Großstadtdschungel kontrastiert.
Die Stadt wird in statischen, beobachtenden Totalen präsentiert, in denen sich die Charaktere verlieren, ähnlich wie in dem größtenteils Dokumentarischen Koyaanisqatsi oder Tatis Playtime.
////////////////////
The jungle is home and a place of spirituality at the same time for the protagonist. His tribe sees in the wild flora a part of their culture, they know the trees and paths like we know our neighborhood. While humans originate from nature in our materialistic worldview, they see their origin in the culture, and what seems inhospitable and wild to us, is their culture, rivers are their streets, meadows their living rooms, trees their churches. Like in the theory of the noble savage, landscape shots and pleasant blue-orange contrasts establish the movie.
At the same time the forrest is a place of danger and mysticism. An idyllic green can quickly turn into a demonic, toxic green, a tangled labyrinth where predators lurk behind every corner, and there is no point of reference.
The third fascet of the jungle is mysticism, and blue will be its primary color. In Isolation shamans as well as novices expose themselves to the wisdom of plants and animals and contact the spirit-world.
Blue and pink are the colors of the psyche and will be essential during mystical encounters and visions. The light-being appears in surreal surroundings, or in the jungle, in front of which it does not really look like part of the same world. This is achieved by moving it at a different pace then the environment.
With slow-motion and wind the image is given underwater-aesthetics, referencing water as an element of illumination and making it seem like a dream. Occasionaly it moves in fractal landscapes. Wafting cloth around and on her illustrate its etherial, transcendental nature and turn her into an oracle.
The visions will be filmed in a greenscreen studio.
The rich, green jungle from the first half of the film is contrasted with a dirty concrete jungle, in the second half.
The city is presented in static, observing wide shots, in which the firures loose themselves, similar to the documental Koyaanisqatsi or Tati's Playtime.