06.04.2022
BUTENLAND im TV und Rettet MATILDA!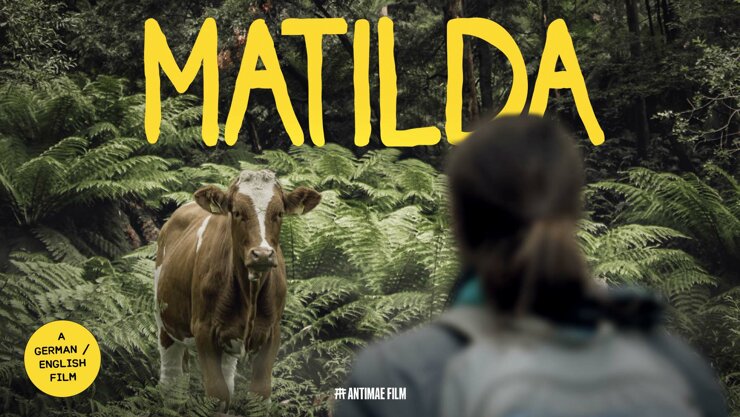 Am vergangenen Sonntag um 23.35 Uhr war es endlich so weit – Butenland wurde im MDR gezeigt! Leider zu einer Uhrzeit, die kaum darauf hoffen lässt, dass das Thema viele Zuschauer*innen per Zufall erreicht. Aber nun ist der Film immerhin bis Anfang Juli in der ARD/MDR Mediathek verfügbar und wird dort auch prominent präsentiert. Ich bin mir sicher, dass Butenland auf diesem Weg noch ein einige Menschen erreichen wird: Butenland in der ARD Mediathek
Ich möchte die Gelegenheit nutzen und euch mein neues Projekt vorstellen, welches heute an den Start geht! Ich würde mich sehr freuen, wenn ihr wieder mit dabei seid und auch MATILDA unterstützt!
Crowdfunding-Kampagne für den Kinospielfilm MATILDA gestartet!
Der Spielfilm erzählt die Geschichte von Matilda, einer aus dem Schlachthof entflohenen Kuh, und ihrer Begegnung mit Anna, einem Mädchen an der Schwelle zum Erwachsensein, deren Leben nach dieser ungewöhnlichen Begegnung auf die Probe gestellt wird.
MATILDA ist ein bewegender Blick auf unsere Beziehung zu Tieren, die Wucht des Mitgefühls und die Werte, die unser Leben bestimmen.
Autor und Regisseur Marc Pierschel (Butenland, The End of Meat, Live and Let Live) und die Produzentin Steffi Köhler haben zusammen die Produktionsfirma ANTIMAE FILM gegründet. Das Crowdfunding soll die Vorproduktion ihres Debütfilms finanzieren.
HELFT ANNA MATILDA ZU RETTEN und sichert euch eine oder auch mehrere der exklusiven, limitierten Belohnungen: Dein Name im Film, eine Rolle im Film, den Film selbst und vieles mehr!
Teaser und weitere Infos: MATILDATHEFILM.COM