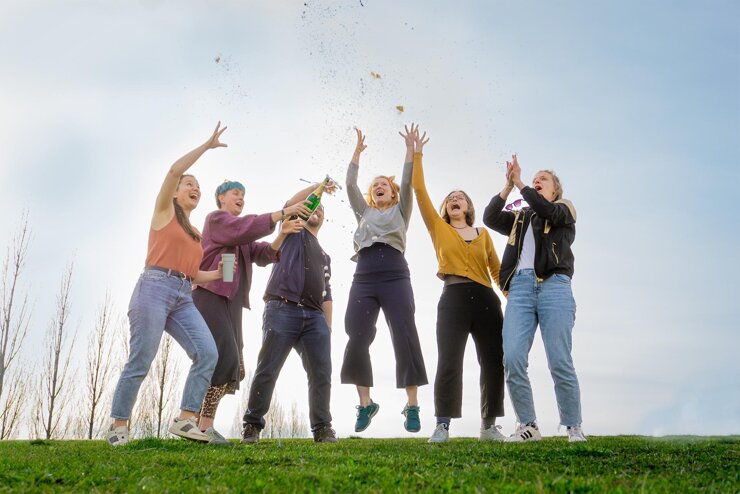 Unser Crowdfunding geht zu Ende - und zwar mit einer gigantischen Summe von 19.210 €
Wir danken euch allen von ganzem Herzen für diese großartigen finanziellen Unterstützungen. 
Wir können tatsächlich gerade noch überhaupt nicht glauben, dass wir es tatsächlich geschafft haben, so eine krasse Summe zusammenzukriegen und sind einfach nur überwältigt gerade. 
Daher:
Danke an alle Personen, die unsere Inhalte geteilt haben, davon erzählt haben, Werbung gemacht haben, Flyer verteilt haben, uns gepusht haben, auf unseren Veranstaltungen waren, über uns berichtet haben und uns verlinkt haben. Danke an alle, die uns den Rücken gestärkt haben und uns in der Crowdfunding Phase so viel Liebe und Zuversicht geschenkt haben. 
Danke für euren enormen Vertrauensvorschuss und dass es noch so viele Menschen gibt, die daran glauben, dass feministische Veränderungen möglich sind und dass im Bereich von Sexualität noch ein enorm hoher Bedarf herrscht. 
Wir freuen uns riesig, dass ihr alle so an uns und unsere Vision - einen feministischen Sexshop in München zu eröffnen - glaubt und es uns nun ermöglicht, weitere Schritte mit Consent Calling zu gehen! 
Wie genau diese aussehen werden, werden wir in den nächsten Monaten herausfinden….
Wir sind unendlich dankbar, stolz, glücklich und voller Vorfreude auf die nächste Phase von Consent Calling
Danke an unsere wunderbare Crowd
Daniela, Lisa, Sarah, Chris, Sandra, Jojo und Miriam <3
——————
THANK YOU!
Our crowdfunding comes to an end - with a gigantic sum of 19.210 €
We thank you all with all our hearts for these great financial support. In fact, we can not believe that we have actually managed to collapse such a blatant sum and are just completely overwhelmed.
Therefore:
Thanks to everyone who shared our content, told about advertising, have made flyers distributed, put us pushed, on our events, have reported about us and have linked us. Thanks to all who have strengthened us the back and given us in the crowdfunding phase so much love and confidence.
Thank you for your enormous advance of trust and that there are still so many people who believe that feminist changes are possible and that in the field of sexuality is still a tremendous need.
We are happy that you all believe in us and our vision - to open a feminist sex shop in Munich - that now allows us to take more steps with Consent Calling!
How exactly these will look, we will find out in the next few months ....
We are infinitely thankful, proud, happy and full of anticipation of the next phase of Consent Calling
Thanks to our wonderful crowd
Daniela, Lisa, Sarah, Chris, Sandra, Jojo and Miriam <3