22.10.2014
Flowin IMMO & The Hoo jetzt Live auf Tour unterwegs!!!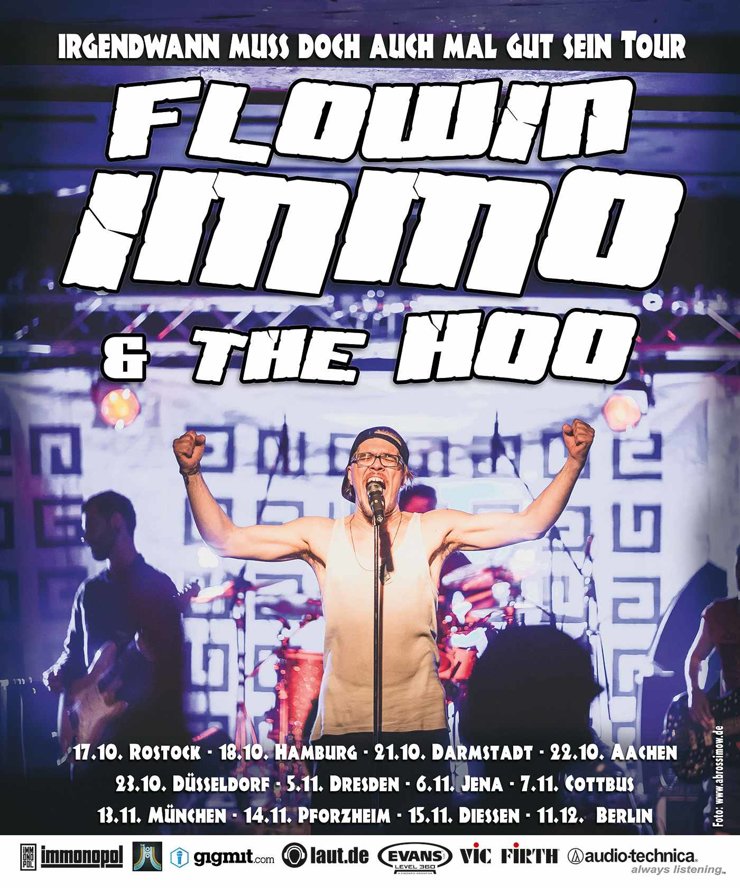 Moin Moin liebe Crowd!
Letzten Samstag ging es in Hamburg schon los, und ich habe das Blog-Update verpasst... für die Hanseaten, die das verpasst haben gibt es am 28.11. einen Gastauftritt meinerseits im Nochtspeicher bei In The Mix.
Aber jetzt fix Butter bei die Fische, denn der Tourbus steht schon wieder mit laufendem Motor vor der Tür.
The Hoo liefern mir wie schon im Mai die satten Grooves in unterschiedlichster Bauart, von zart bis hart, ich liefer ca. 5000 Worte in richtiger Reihenfolge, manche davon auch aus dem Stehgreif.
Bitte kommt in Scharen oder schickt Eure Freunde vorbei, es tut uns allen gut, es gemeinsam zu tun. Was genau das ist lässt sich kaum in Worte fassen.
Mittwoch, 22. 10. 2014 Aachen Dein Hotel Europa
http://www.deinhoteleuropa.de/
https://www.facebook.com/pages/Dein-Hotel-Europa/169185059846620?fref=ts
https://www.facebook.com/events/1486516978281467/
Support: https://www.facebook.com/johnnypriestmusic
Donnerstag, 23. 10. 2014 Düsseldorf Cube
http://www.dascube.de/
https://www.facebook.com/Cube.Duesseldorf?fref=ts
https://www.facebook.com/events/845523445480319/

Mittwoch, 5. 11. 2014 Dresden Scheune
https://www.facebook.com/scheunedresden?fref=ts
http://www.scheune.org/
https://www.facebook.com/events/727385353999634/
https://www.facebook.com/events/491103117659541/
Support: KapuDDniks
Donnerstag, 6. 11. 2014 Jena Kassablanca
https://www.facebook.com/kassablancajena?fref=ts
http://www.kassablanca.de/
https://www.facebook.com/events/774353892631610/
Freitag, 7. 11. 2014 Cottbus Chekov
https://www.facebook.com/Chekov.Cottbus?fref=ts
http://www.chekov.info/
Support: Bujaka
Donnerstag, 13.11.2014 München Import Export Kantine
https://www.facebook.com/impex.muc/
http://www.import-export.cc/
https://www.facebook.com/events/1559384280947962/
Freitag, 14. 11. 2014 Pforzheim Kupferdächle
Support : Körpa Klauz & Band
https://www.facebook.com/pages/K%C3%B6rpa-Klauz/223528570998470
https://www.facebook.com/kupferdaechle?fref=ts
http://www.kupferdaechle.de/
https://www.facebook.com/events/1516716208558901/

Samstag, 15. 11. 2014 Diessen am Ammersee FUHA
http://fuchsundhas.blogspot.de/
https://www.facebook.com/pages/Fuchs-Has/150198865049115
Donnerstag, 11.12.2014 Berlin BiNuu
Support: Smith&Smart , The Hoo
https://www.facebook.com/BiNuuBerlin?fref=ts&rf=358605324215411
http://www.binuu.de/