19.07.2015
THANK YOU! Wir haben es geschafft und möchten uns bei Euch bedanken!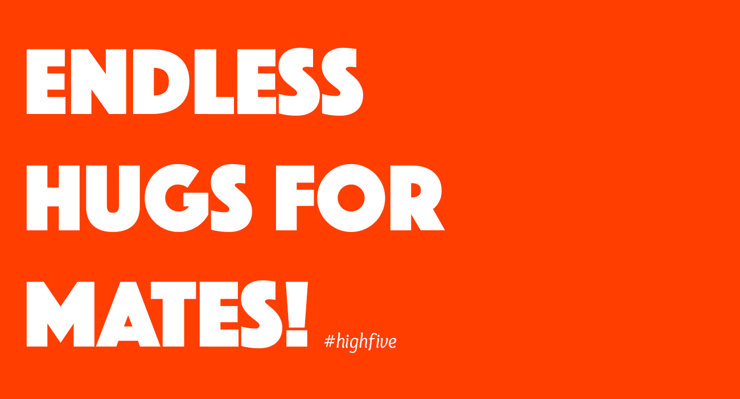 Bei allen von Euch, die uns so rege unterstützt haben, möchten wir uns allerherzlichst bedanken! Wir freuen uns riesig und können das noch gar nicht richtig in Worte fassen.
Unsere Vorbereitungen fürs Festival liefen im Hintergrund die ganze Zeit weiter und nun können wir Vieles festmachen, das vorher noch unsicher war: Ende August, Anfang September werdet Ihr Plakate von uns in Berlin sehen, wir können die letzten Filme final zusagen und einiges mehr.
Wer weiter auf dem Laufenden gehalten werden möchte, der kann sich gern für unseren monatlichen Newsletter auf unserer Website anmelden: downunderberlin.de
Die Dankeschöns werden in den kommenden Wochen koordiniert. Wenn Ihr dazu Fragen habt, schreibt bitte eine Email an info[at]downunderberlin.de
Vielen Dank und beste Grüße vom gesamten Down Under Berlin Team! Nochmals danke!!
Wir sehen uns spätestens im September!
Euer Down Under Berlin team
__________________________________________________________
We are sending out a big fat thank you to all of our supporters! We are stoked and have yet to find the right words to express how good it feels to know you are backing us and what we do!
Preparations for the festival have been going steady and we are excited as we are now, with your support, able to book the last films and make concrete plans for the festival. For instance: In early September keep your eyes peeled when travelling on the Berlin U-Bahn and you'll see our posters! Woohoo, poster ads in the city are a first for us! #highfive
We'd like to invite you to sign up for our monthly newsletter if you'd like to stay up-to-date. You can also check our website for the latest news: downunderberlin.de
We'll put up the festival program in August!
We will get most of your perks ready within the next weeks (as described). Please do contact us in case you have questions: info[at]downunderberlin.de
Again, thank you so much. Your support means a lot to us!
See you in September!
Yours,
the team at Down Under Berlin