31.05.2014
Das Soffocazzo Konzert steht vor der Tür!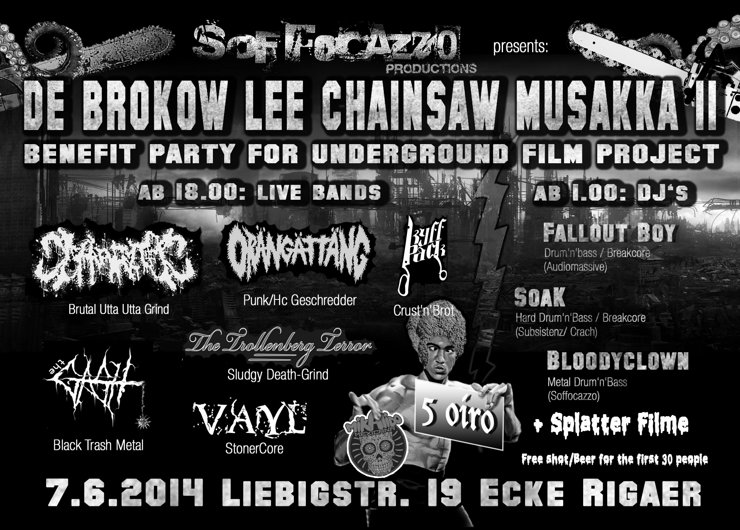 Nur noch eine Woche, dann findet unser Brokow Lee Chainsaw Musakka II in der Liebig 19 statt. Die Vorbereitungen laufen auf hochtouren. Lust auf kleine Gehirnmuffins und blutige Eiterschnäpse?! ;)
Es gab ein paar Updates, für alle, die bei facebook nicht unterwegs sind:
Ab 18 Uhr:
- 6 Bands
- Rotzfilme am laufenden Band
- viele lausige Gewinnspiele
- Soffocazzo Projektpräsentation
- Cockttailbar
- Suffzeug ab 1,50
- Party ohne Ende (?)
- es kloppen sich für eure Herzen folgende Gruppen die Finger blutig: Jehacktet, VAyL, The Trollenberg Terror, Orängättäng, Kyffpack, The Gash
Ab 1 Uhr:
- Afterburner bis zum bitteren Ende mit den DJ's Bloodyclown (Metal Drum'n'Bass - Soffocazzo), Fallout Boy (Drum'n'Bass / Breakcore - Audiomassive) und Soak (Hard Drum'n'bass / Breakcore - Subsistenz/Crach).
Das ganze gibts ab 5 Oironen plus bissel Spende für die Suffköppe von Soffocazzo.
Die ersten 30 Piepel kriegen sogar ´nen Freibier /-shot hinterhergeschmissen!
Wird ne tolle Party, also kommt vorbei!