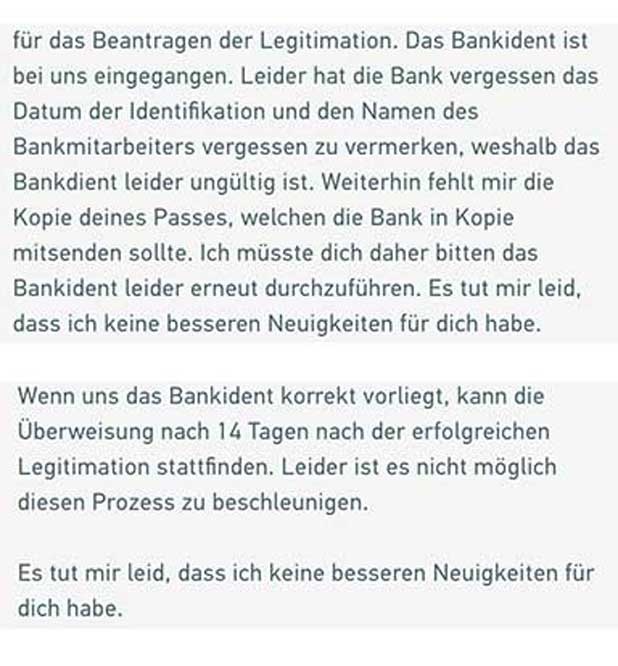 Liebe Player, (english below)
es gibt ein (bestehendes) Problem. Letzte Woche kam das BankIdent zwar bei StartNext an, aber es war von der Bank leider fehlerhaft & ungültig ausgestellt. Ich hatte es dann sofort neu & korrekt ausfüllen & weiterleiten lassen, aber StartNext sagte nun, dass die Überweisung 14 Tage dauern wird (also nicht mehr im Dezember). Wie sollen wir nun verfahren?? Ich weiß, dass viele auf ein schönes Brett unter dem Weihnachtsbaum sehen wollen, aber ich tue mir schwer meinen Rahmen noch weiter auszudehnen um meine harte Arbeit vorab zu versenden, da ich aus Erfahrung weiß, dass bei Crowdfundings einige Zahlungsmethoden nicht unbedingt gedeckt sind.
Ich bitte um Rückmeldung, was eure Vorschläge wären um die bürokratische Mauer frühzeitig zu überwinden.
liebe grüße
ivo
Dear Players,
unfortunately my bank has provided the necessary forms insufficiently & incorrectly to StartNext. I have immediately have them do it again last week & sent again, but StartNext says that even though the process was prolonged it will still need 14 days to transfer the funds. It is enormously frustrating, but how should we move now?
i am already really stretched out on money & am very reluctant to send boards (lots of hard work) out before receiving funds, since i know from a previous crowdfunding that credit-cards can bounce.
all the best
ivo