01.04.2022
Yes, I can be scary!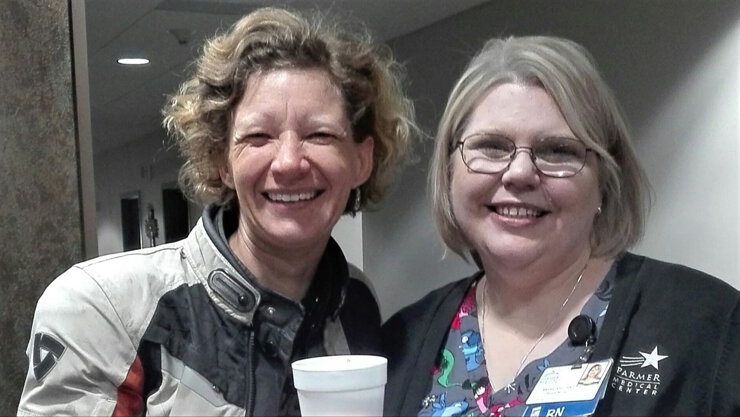 "No, we don't have coffee. Nor a coffee machine. A restroom?" The lady on the clinic counter leans back - do I smell bad? "Over there..." Boy, she seems relieved to get some distance between her and me.
It's a cold morning in Friona, Texas, and the person that looks at met from the mirror would have scared me, too. Better get out of here!
As I cross the clinic parking, I hear someone calling out for me: Monia Ann, an angel in disguise.
This wonderful lady brings me black gold - coffee! And not only coffee, but also a toothbrush (okay, accept that parts of me smell bad) and a complete necessity kit.
Plus, she's mega nice!! I spare her a thankful hug from smelling me - hopefully, she sees how happy I am.
Unfortunately, Monia Ann has to go back to work before the coffee hits and I can have a decent conversation - but I'll take her with me in my heart.
❤️ I'm happy and honored that Monia Ann supports the translation campaign for my travel book "Once upon a bike" - thank you, Monia Ann ❤️
I wrote this book after my 181 days solo motorcycle trip through the US and published it in German. The English edition will be published in all major English-speaking countries. We only need to get the translation funded ☺️
Wanna join in? Get...
✔️... your name in the book
✔️... your company logo in the book
✔️... me reading to you ?