07.07.2017
Project canceled!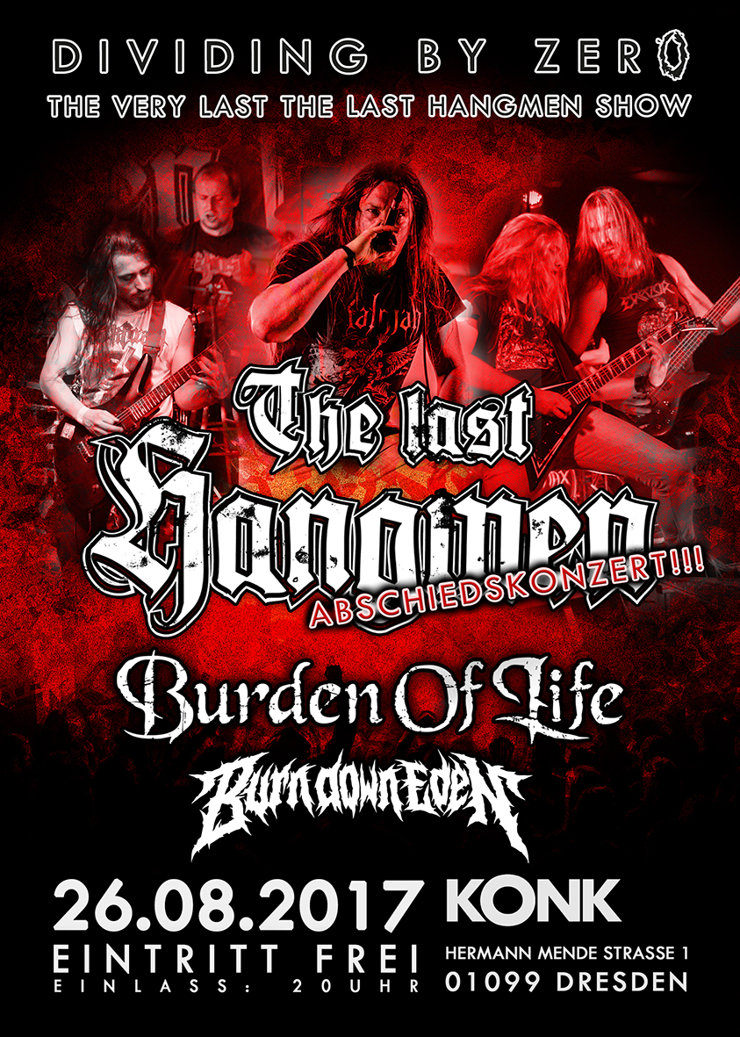 [Englisch below]
Goodbye!
Hallo zusammen, wir wenden uns heute leider mit schlechten Neuigkeiten an euch. Zunächst noch einmal ein Riesendankeschön für eure Unterstützung beim Crowdfunding - das bedeutet uns wirklich sehr viel!
Leider müssen wir euch heute mitteilen, dass wir unser drittes Album nicht wie geplant fertigstellen können. Mit fertig geschriebenem Material starteten wir zwar noch einmal voller Motivation ins Crowdfunding, bekamen allerdings mit der Aufnahmephase die Gewissheit, Kompromisse eingehen zu müssen, die wir nicht auf CD gemeißelt haben möchten.
Für uns stand mit der Band immer der Spaß an der eigenen Musik im Mittelpunkt. Jeden mit der Band verdienten Cent investierten wir wieder hinein und haben damit ein Projekt aufgebaut, das sich aus sich selbst finanziert hat und weit über die Landesgrenzen Sachsens hinaus regelmäßig Auftritte spielen konnte. Dass jetzt alles mit einem Mal hinzuschmeißen klingt nicht nur verrückt - es ist es wahrscheinlich auch. Aber wir haben in den letzten Monaten feststellen müssen, dass unser Ziel Musik zu machen, die den Test der Zeit - vor allem in den eigenen Augen – bestehen kann, nicht mehr machbar ist. Zu viele Provisorien sind zum Dauerzustand geworden und viele (kreative) Lasten haben sich zu ungleich auf den beteiligten Schultern verteilt.
Genau das ist es, was uns letztendlich zu diesem Schritt bewegt hat: Wenn sich so ein Projekt für die Beteiligten nach Last und nicht mehr nach Lust anfühlt, ist es wohl Zeit es zu beenden.
Die Entscheidung ist uns nicht leicht gefallen, zumal auch der Zeitpunkt, jetzt, nach erfolgreichem Crowdfunding, nicht ungünstiger sein könnte. Am Ende haben wir uns dennoch dafür entscheiden müssen, die Band aufzulösen und die Releaseparty im November abzusagen. Dass alle unsere Unterstützer und Gönner jeden gespendeten Cent aus der Aktion erstattet bekommen, versteht sich von selbst und ist auch bereits in die Wege geleitet.
Es bleibt, dass jeder einzelne von uns sehr dankbar dafür ist, die letzten acht Jahre in dieser Form erlebt zu haben. Dazu habt auch ihr mit Schweiß und Lärm in besonderem Maße beigetragen! Hierfür möchten wir uns mit einem kostenlosen Abschiedskonzert in Dresden bei euch bedanken und es noch einmal richtig knallen lassen.
Save the Date: 26.08.2017 – Konk Club Dresden mit Burden of Life und Burn Down Eden
FB-Event-Link: https://www.facebook.com/events/204676386723598
Wir sehen uns dort!
The last Hangmen - Chris, Peter, Stefan, Micha und Frank
______________________________________________________________________________
ENGLISH:
Farewell!
Hey guys. Today we have unfortunatly some bad news for you. First we wanna thank again all of those, who supported us in our crowdfunding campaign – this means the world to us.
Yet we have to tell you, that we can't finish our third album as planned. With the already written material we started highly motivated in the crowdfunding campaign, but now within the beginning process of recording, it came to certainty that would have to commit compromises, we do not want to ban on a CD.
We always aimed for the fun in performing our own music. Every cent we earned with the band, we've put back into the project and thus created an outfit that – with a little of your help - runs itself and we've played gigs far beyond the borders of our own little state of Saxony on a regular basis. Throwing that away may seem insane and it probably is. Yet we had to confess to ourselves during the last few months, that our goal – creating music that stands the test of time, especially in our own eyes – is not achievable anymore. Too many interim arrangements became a matter of standard and too many (creative) burdens were not equally allotted.
And that's exactly the point: When something that should be fun, becomes a chore, it may be time to end it.
We did not rush this decision, and we know that the moment could not be worse after the success of the crowdfunding campaign. In the end we had to settle on the agreement to cease the band and to cancel the album and all upcoming shows. It goes without saying, that all of you, who supported us with your hard earned money will get back each and every cent from the campaign. We already started the process for the refunding.
The only thing left to say: Every one of us is deeply thankful for the past eight years and you contributed to that experience with noise and sweat. And we will thank you for that with one last gig for free in Dresden, where we wanna party hard with you!
Save the date: 26th of August 2017 – Konk Club Dresden with Burden of Life and Burn Down Eden
FB-Event-Link: https://www.facebook.com/events/204676386723598
See ya there!
The last Hangmen – Chris, Peter, Stefan, Micha and Frank