23.11.2016
TEQUILA & THE SUNRISE GANG: "Absolute Rarität"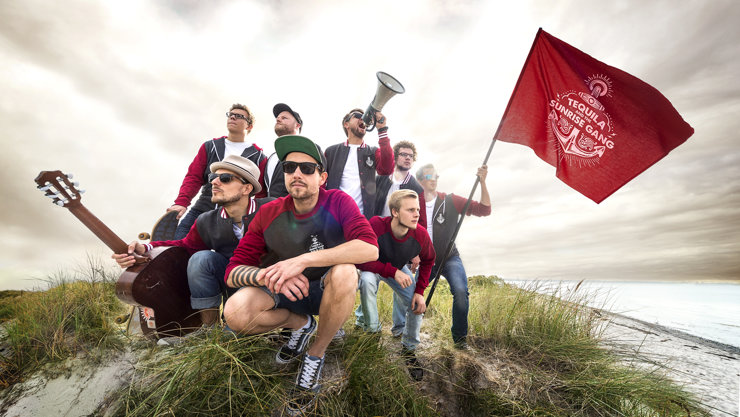 Was macht man wenn man am Strand aufwächst und nicht surfen kann? Man tauscht das Brett gegen Gitarren und gründet eine Band. Gute Entscheidung: Tequila & the Sunrise Gang beweisen mit multi-instrumentalem Reggae-Rock-Sound und fulminanten Live-Auftritten im Vorprogramm der Mad Caddies (USA), bei Babylon Circus (Frankreich) oder Panteón Rococó (Mexiko), dass "Welle machen" kein reines Surfer-Ding ist.
Was TATSG dazu bewegt hat, bei uns mitzumachen lest ihr im Folgenden.
Wir machen bei der dna merch Kampagne mit, weil wir uns freuen als Band eine so gute und wichtige Aktion unterstützen zu können.
Die Näherinnen in Kroatien arbeiten ohne Boss! Das finden wir großartig, fair und mehr als nur gerecht!.
Arbeit sollte nicht nur, sondern muss unter menschenwürdigen Bedingungen stattfinden!
Unser dna merch T-Shirt-Motiv ist maritim, wild und handgemacht. So wie unsere Musik.
Wenn du ein dna merch T-Shirt von uns bestellst, dann unterstützt du damit eine grandiose Aktion, die wirklich etwas nützt und bekommst dazu auch noch eine absolute T-Shirt-Rarität.
---
Hier exklusiv und nur bis zum 8.1.2017 bestellbar: Das TATSG dna merch Kampagnen-Shirt! Und hier gibt's die passende Geschenkkarte zum Runterladen und Selbstausdrucken!