15.07.2015
Nicht vergessen…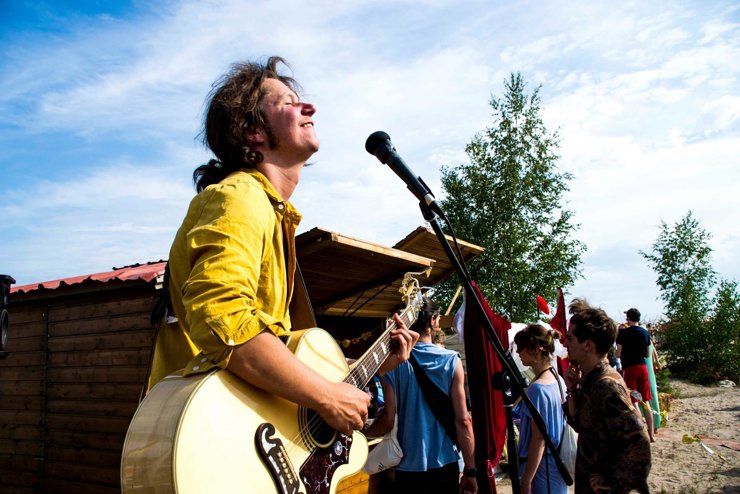 [English below]
...heute Abend spielen die Jungs von Yaron Records alle gemeinsam in der O.T. Bar in der Weichselstraße 55! Die O.T. Bar ist einer der ersten Orte in denen Romano Licker regelmäßig Konzerte gegeben hat, als seine Singer Songwriter Karriere noch in den Kinderschuhen steckte. Dafür sind wir Philip und seine Crew wahnsinnig dankbar und freuen uns dort heute mit gleich drei Künstlern den Abend zu gestalten.
Am Wochenende *drum rolls* haben wir euch ja schon eine grooße Überraschung versprochen und mit dem Support von den Rummel Stilzchen und Papierfliegern sind wir fleißig am planen und machen, um mit euch das schönste zweite Yaron Open Air zu zelebrieren. Kommt vorbei und tanzt mit uns – unsere Location findet ihr spontan in unserem Facebook Event, hier:
www.facebook.com/events/1461818967446739/
Unter anderem werden wir unterstützt von COMBINE – wir sind große Fans und das werdet ihr bestimmt auch, überzeugt euch selbst: www.youtube.com/watch?v=JhvwfRx--A4
Wenn ihr euch den 25.7 noch nicht rot im Kalender angestrichen habt, dann tut es doch bitte jetzt sofort und schickt all euren Freunden eine Einladung, denn das im Freundeskreis "Best Festival Ever" getaufte Musik Festival organisiert von Berlin Street Music und Yaron Records wird bombastisch werden. Haufenweise tolle Künstler im schnieken Hof vom Wallyard Hostel, checkt das line – up hier: www.facebook.com/events/473132319528690/
Aber über all die Euphorie und Aktionen dürfen wir und ihr nicht das wichtigste vergessen: all unsere Träume für die Zukunft könnt ihr helfen zu erfüllen. Denn Konzerte, Festivals und Touren sind nur ein Teil des Musiker Lebens, wir möchten gerne unsere Musik produzieren und veröffentlichen, so dass wir immer und überall von euch belauscht werden können. Wir haben nur noch knapp 2 Wochen, die Zeit rennt, bitte unterstützt uns auch dadurch, dass ihr unsere Infos weiterleitet und andere von uns begeistert.
Alles Liebe und Beste,
eure Yaronauten
P.S. checkt unseren super Radiobeitrag bei FluxFMs Krautfunding aus, falls ihr ihn verpasst habt - siehe oben!
Don't forget that we are playing at O.T. Bar (Weichselstraße 55) tonight at 9pm, so come then or earlier to listen to all of us Yaron Record's musicians! The O.T. is a very special place to us, as it was the first place where newly evolved Singer Songwriter Romano Licker used to play regularly back in the day. We appreciate Philip's and his crew's support and encouragement during the years and are thus extremely happy to be playing there once again like in the good old days.
This weekend *drum rolls* as promised – you can be part of our biggest surprise yet. Open Air fanatics Rummel Stilzchen and Papierflieger will support us in our quest to celebrate the most amazing second Yaron Open Air ever! Come by and dance with us, in our secret location that you will be told spontaneously in our Facebook Event, here: www.facebook.com/events/1461818967446739/
Besides other amazing artists, we will be supported by COMBINE – we are huge fans of our own, and are sure you'll be too once you hear them: www.youtube.com/watch?v=JhvwfRx--A4
And if you haven't encircled July 25 in all of your calendars yet: do it now!! And send all of your friends an invitations, too. Because – what we unofficially already call the "best festival ever" – Berlin Street Music and Yaron Records joined forces to throw a bombastic party! Many many amazing artist, will be enchanting you at the Wallyard Hostel's courtyard, check out the line and infos – up here: www.facebook.com/events/473132319528690/
But, asides from all the euphoric dancing and singing, we cannot forget what we are here for: now is the time where we need your support more than ever. Because our dreams include more than just gigs, festivals and touring stages, we want to release our own EP's, so you can listen to us wherever, and whenever you want. So please make sure to support us during our last two weeks, 'cause we need your help now!! Spread the word, spread the love!
Love and all the best,
your Yaronauts
PS in case you've missed it: listen to our fun interview on FluxFM above (available only in German – sorry.)