15.02.2016
Produktionszeitplan +++ Workshop Humana Nova +++ "Objection!"-Shirts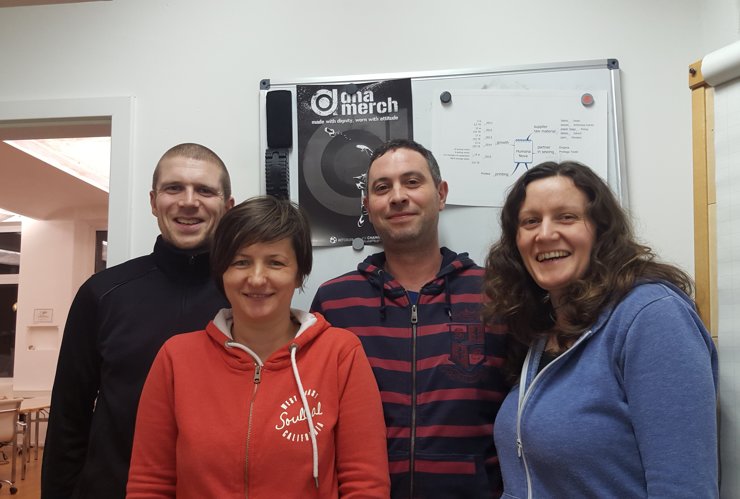 (English below)
Liebe Supporter,
letzte Woche haben uns Ivan und Damjanka von Humana Nova besucht. In einem zweitägigen Workshop haben wir uns über den Produktionsablauf eurer Shirts und unsere gemeinsame weitere Zusammenarbeit ausgetauscht.
Der am 13.1. in Indien gestartete Frachter mit unseren Stoffen an Bord soll diesen Freitag im Hafen von Rijeka in Kroatien einlaufen. Bis die Stoffe aber tatsächlich vor Ort bei Humana Nova sind, dauert es dann noch einmal eine Woche. Wir gehen davon aus, dass wir die fertig genähten und bedruckten Shirts am 12.4. in Berlin haben. Wir werden den Einzelversand bereits gut vorbereiten, so dass wir die Teile dann möglichst schnell an euch schicken können. Jede/r von euch sollte also bis Ende April sein T-Shirt in der Post haben!
Das Treffen mit Ivan und Damjanka war von Offenheit und Hoffnung für die Zukunft geprägt. Eine der größten Herausforderungen haben wir im Bereich der Logistik und des Transports kleinerer T-Shirtauflagen identifiziert. Da fehlt uns im Moment noch eine wirtschaftlich akzeptable Lösung. Zuversichtlich stimmt der nähere Einblick, den wir in das lokale Netzwerk der Kooperative bekommen haben. So gibt es gleich zwei Partner in der näheren Umgebung, die bei größeren Produktionsanfragen als Unterstützung in Frage kommen.
***GIVEGREENLY***
Heute morgen ist die Crowdfunding-Kampagne von GIVEGREENLY gestartet, ein Projekt von einem der Machder des SLAM alternative music magazine. Es geht um eine App für Smartphones mit der ihr dringende Naturschutzprojekte schnell und einfach unterstützen könnt und mit Gutscheinen dafür belohnt werdet. Wir unterstützen die Kampagne mit 15 "Objection! I am not an Object!"-Shirts. Checkt das mal aus: https://www.startnext.com/givegreenly
---------------
Dear Supporters,
Last week, we've been visited by Ivan and Damjanka from Humana Nova. In a 2-day workshop we discussed the production of your shirts and our future cooperation. The ship with our fabric aboard that left India on the 13th of January shall arrive this Friday in the port of Rijeka in Croatia. It will then take another week until the fabrics will have reached the cooperative's factory. We've calculated that the ready made and printed shirts will be in Berlin on April the 12th so that everybody should have their shirts by the end of April/beginning of May depending on where they live.
***GIVEGREENLY***
Check out the crowdfunding campaign of GIVEGREENLY, a project by one of the makers of the SLAM alternative music magazine. It's about an app for smartphones that lets you support the most urgent conservation projects directly and rewards you with a gift-voucher in return. We support the campaign with 15 of our "Objection! I am not an Object!" shirts. Go check it our here: https://www.startnext.com/givegreenly