13.03.2018
'The Swan' On Tour & On Air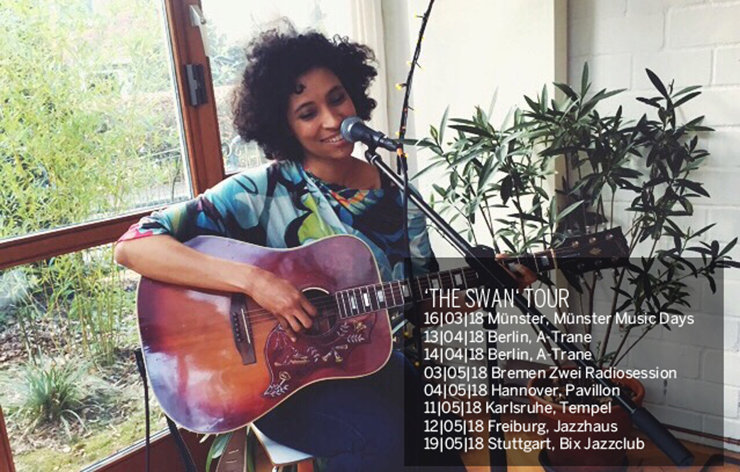 GERMAN VERSION BELOW:
Hey dear friends,
our first concert is coming up in strides: we take off this coming Friday in Münster at Münster Music Days where we'll be playing a double concert with singer songwriter Jan Löchel whose sound is enticing with its Scandinavian flair.
We're super excited – watch a glimpse of our rehearsal at BluHouse studio below.
On Air – coming up tonight on radio RBB: half hour feature with lots of songs from 'The Swan' :
13|03|18 RBB 'The Voice' 19:30
I am delighted at the enourmous acclaim from the press for 'The Swan' !!! Find some on my Instagram
Hope to see you soon live.
XXX,
Tokunbo
______________________________________________________

Hallo liebe Freunde,
unser erstes Konzert mit dem Programm vom neuen Album steht vor der Tür! Am Freitag geht es im Rahmen der Münster Music Days mit einem Doppelkonzert mit dem Singer Songwriter Jan Löchel los, des skandinavischer Sound mich gleich verzaubert hat.
Wir sind sehr aufgeregt, haben diesmal sogar Posaune und Akkordeon dabei! Unten kurze Impressionen von unserer Probe im BluHouse Studio.
Im Radio: Ich freue mich auf das halbstündige Portrait heute Abend auf RBB.
13|03|18 RBB 'The Voice' 19:30
Sehr beglückt bin ich über das unglaubliche Lob der Presse für 'The Swan', '... ein frühes Singer-Songwriter-Juwel des Jahres' schreibt z.B. Focus Online/dpa. Mehr unter tokunbomusic.com
Ich freue mich auf Euch auf Tour! Bringt Eure Freunde mit.
Herzlich,
Tokunbo
_____________________________________________________
RADIO:
13|03|18 RBB 'The Voice' 19:30-20:00 Stream
______________________________________________________
ON TOUR 2018
16|03|18 Münster, Münster Music Days (Doppelkonzert mit Jan Löchel)
13|04|18 Berlin, A-Trane
14|04|18 Berlin, A-Trane
03|05|18 Bremen, Radio Bremen Radiosessions
04|05|18 Hannover, Pavillon
11|05|18 Karlsruhe, Tempel
12|05|18 Freiburg, Jazzhaus
19|05|18 Stuttgart, Bix Jazzclub
31|10|18 Regensburg, Jazzclub Leerer Beutel
29|11|18 Helmstedt, Jazz bei Avacon