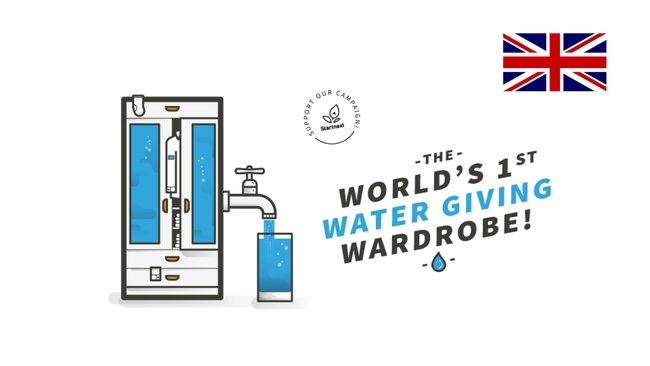 Dear interested and potential supporters :)
this blog post contains all of our campaign texts in English. If you have any questions, please feel free to add a comment or write us a direct message.
Blue Ben – The first water-saving & compostable sweater grown & made IN Europe FOR Bangladesh

Brief description
Water is more important than clothing! That's why we're working on a compostable sweater that uses 90% less water than a conventional cotton sweater. We completely abstain from artificial irrigation, cotton, plastics, long transport routes and wage dumping. From the raw material to the finished sweater we stay in Europe. Our vision? A wardrobe with essentials that save and give water. That's why we pay reparations to countries that have suffered from the textile industry.

What is the project about?
What's the problem?
On average, Germans buy 60 new garments a year, which are sorted out again before they are really worn out. In addition to the enormous garbage mountains caused by this, especially the cultivation of cotton harms human and nature. In addition to catastrophic working conditions and the use of toxic chemicals, it is the extremely high water consumption that needs to be changed. A cotton sweater consumes between 3,500 and 8,000 liters of water from cultivation to manufacturing. Enough to cover the daily drinking water needs of a person for at least 5 years. Especially in cotton-growing countries, there is a great shortage. In India alone, the second largest exporter of cotton, more than 100 million people today have no access to clean drinking water.

What's the Blue Ben solution?
The global demand for clothing will increase by 63% until 2030. Therefore fashion will increase in importance rather than decrease. That's why we want to create fashion that we like to wear and which makes labels such as "fair" and "sustainable" the standard. We abstain from cotton, plastics, toxic chemicals and cheap labor. Raw material cultivation, fabric development and manufacturing remain in Europe. In addition to 90% of water, we save many tons of CO2. However, we take responsibility for the damage already caused in cotton-growing countries by paying 10% of sales in the form of reparations to our local partners there.
Our vision: A complete wardrobe of compostable, water-saving essentials whose design and fabric are as long-lasting as possible.
The first step: Our #Bangladesh sweater – The first sweater that saves and gives water back at the same time – Made FOR, not IN Bangladesh!

What makes our sweater so special?
For our first product we opted for a unisex sweater - crew-neck, relaxed-fit, with a very special branding. The basis for the #Bangladesh sweater is our especially developed fabric made of modal and hemp. Both fibers grow in Europe and without artificial irrigation. In addition, the yield per kg is up to 4x for modal and twice as high for hemp compared to cotton.
mix of modal and hemp fibers from Austria and France
90% water savings compared to cotton sweaters
made in Europe
made FOR Bangladesh - 10% of sales are reparations
soft (modal), dimensionally stable (hemp) fabric
antibacterial effect
less odor
compostable
no microplastic
water based prints
our colors are free of phthalate, formaldehyde and solvent as well as biodegradable
no pesticides and herbicides
In summary, we make cool sweaters, that stand for something, in which we feel good and all of that at a damn fair price.

What are the goals and who is the target audience?
In order to realize our vision of the water-saving wardrobe, we need a variety of fabrics, all of which without cotton but different textures and strengths depending on their use. We have already developed the first fabric variations with our partner Tintex Textiles in Portugal. More will follow this year so that we can offer the next garment as soon as possible.
Blue Ben addresses all people who like to drink water and believe that this resource belongs to us all equally. People who are not indifferent to the fate behind textile production. People who no longer want to follow every fast fashion trend. People who are willing to buy less, but high-quality clothing and pay the true price of these clothes. And people who are inspired by new ideas and are adventurous enough to give something new a try.

Why should anyone support this project?
We want to rethink and redefine the current standards. That's why we start with a crowdfunding campaign instead of a commercial investor. We do not want to produce anything that puts the profit above the consequences for man and nature.* That's why we want to create a real alternative for all of us with Blue Ben.
You should support us because:
You care about a sustainable handling of the resource water
You do not want to produce any more textile waste
You want to balance your current fashion water footprint
You do not want to worry about the production conditions when buying new clothes
You want to support regional instead of global production chains
*movie tip on the topic: The True Cost

What happens with the money if the campaign succeeds?
To date, we have invested approximately € 10,000 privately in the development of our first alternative fabrics. In order to be able to produce the first 1,000 #Bangladesh sweaters (this is our minimum order quantity) from the development of the fabric to dyeing and manufacturing, we need your support!
With € 15,000 we can cover the production costs of one edition of our sweater and implement a small water project in Bangladesh.
With € 25,000 we can produce all three editions and implement a medium-sized water project in Bangladesh.

Who is the team behind this project?
We are Ali, Amira, Benedikt, Hannes, Jakob, Johannes, Jonas, Nora, Solange and Valeria - a colorful bunch of professionals in textile production, fashion design, water resource management, project management, advertising and public relations working and living across Europe. What unites us all is the concern about the already existing and upcoming crises in relation to water and the desire to make a difference, here where we live, where the cycle of consumption begins. As we are just getting started, we look forward to receiving your inspirational support. If you are also burning for our mission, contact us at [email protected].
A big thank you to our biggest supporters so far: Matz, Chris, Ridwan, Corinna, Asal, Hannes, Olga, Grit, Kristoffer, Farschid, Joy, Jan and Jann.