22.05.2020
Ökofuzzi is now available in English!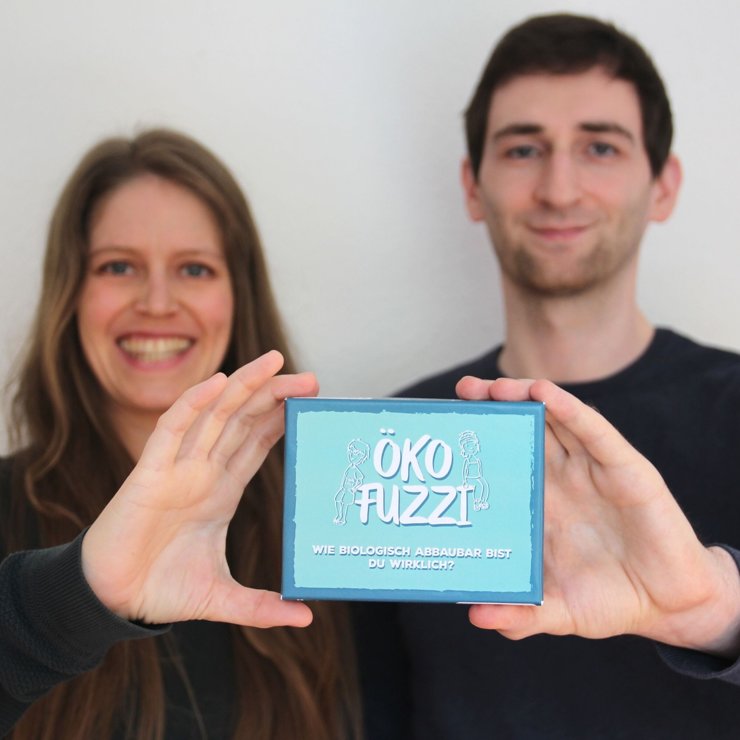 Ökofuzzi is now available in English!
For our international friends and everyone else who wants to support our idea, we are now introducing a very special "Thank You" option: a digital international version of Ökofuzzi! (Sloppily translated to Ecokid.) With 50 questions about unbelievable (but true) facts regarding sustainability that go way beyond Germany. Coming in a pdf so that you can easily print it at home or just play it from your screen.
What is Ökofuzzi about?
Ökofuzzi is the quiz for environmentally conscious and not that environmentally conscious game fans. The international version of the game consists of 25 printable cards with a total of 50 questions that come in a pdf and cover everyday knowledge about different sustainability topics. By guessing together, the game stimulates a lively exchange and motivates you to think - or even better: to become active yourself.
… Climate change, greenhouse gases, sustainability goals. These are terms we've all heard of. What does that actually mean for us? A lot of facts or large numbers don't trigger a proper reaction. People need concrete examples, something with a WOW effect. That's how Ökofuzzi works. With this game we want to show that environmental education doesn't have to be boring or terrifying, but above all can be fun.
Here is an overview of our goals:
Spending time together and having fun
Getting to know exciting facts about the current state of the environment in a playful way
Implementing sustainable ideas together
Being a good example in terms of product design and product life cycles
Why is it called Ökofuzzi?
Öko is the German word for eco, so it is an abbreviation for the word ecology. Fuzzi is a person that is not taken 100% seriously. Ökofuzzi is a (somewhat playful) combination of those two that is used to describe people that are environmentally conscious or promote sustainability. We chose this title to help make becoming an Ökofuzzi something worth striving for.
How does it work?
Ökofuzzi is super simple. We have 25 printable cards with questions on the front and answers on the back. One person reads the question and then the players can discuss, estimate and guess. Whether in teams or everyone against everyone: whoever knows the answer (or comes closest) gets the point. That's it. You can adjust the remaining rules of the game as you need them. The imagination knows no limits. Of course, we also provide a few supporting ideas.
Who is this for?
You are interested in sustainability and know everything there is to know about it and you want to finally show that to all your friends.
You are interested in sustainability and want to know exciting facts that you can use to impress other people.
Other people constantly tell you facts about the environment and you finally want to know more than them.
You are a teacher and need a fun and educating way to engage your students.
You are part of a non-profit organization that works with people and you are looking for new games to play.
You are part of a game night group that already played all the games that are available and finally need something new.
You work for a company that wants to help their employees or customers become a little bit more aware of the environment.
You know someone who is either of the above and know that this would be the perfect gift for them.

The questions are suitable for children aged 12 and over. Exceptions are not ruled out.
Who is behind all this?
We are Elisa from Norderney and Matthias from Hamburg. We have been organizing non-profit events in the field of sustainability and environmental education for over a year. Elisa, who has been volunteering for a green NGO for over a year, is primarily responsible for the content and implementation of the events and workshops, while Matthias takes care of everything in the background: finance, accounting and administration.
We believe that big changes are only possible together. We want to develop and promote sustainable ideas with all our energy. Everyone can do his or her part. Every step helps. If we all take a step in the right direction together, we will be looking at a bright future.
Why should I support this?
We want to show people that learning and having fun can go hand in hand while raising environmental awareness. We need your support to be able to go into production of our German card game. We have adapted the production to our values ​​and the values ​​of our generation. Sustainability is not an issue that should only be discussed, but that must be incorporated into all aspects of our lives and our economy, from product design to delivery and disposal. So we spent endless hours of problem-solving thinking and a lot of work to be able to offer a game that is sustainable in all aspects. We would like to go ahead as an example and inspire other producers to further incorporate environmental aspects into the design.
Our playing cards as well as the box are printed on FSC-certified paper, which contains a recycling percentage of 10-30 percent. We do not use plastic in the entire product. We seal the game with a banderole made of 100 percent recycled paper. This banderole is furthermore used to thank our crowdfunding supporters.
We are two young founders who are passionate about sustainability and environmental education. We want to bring the fun we have during our non-profit events to everyone's home.
We need you to realize our project. Because big changes can only be made together.
You can directly get to the digital version and support us through this link ;)
https://www.startnext.com/oekofuzzi?inc_id=303191#rid-303191